Sophie 
is one of the main characters of
Go Baby!
 She is a young infant who is Baby's playmate and best friend. She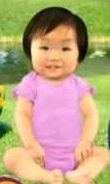 goes on adventures with her friends
Baby
,
Narrator
, and
Butterfly
in every episode. 
Sophie is a young Asian baby with short black hair but longer than Baby's hair and it have bangs. She also wears a pink shirt with a pink diaper. Like Baby, in some episodes, she will also wear something tgat goes with where the setting of the episode is. In Garden, she wears a headband with flowers on it. In Moon, she wears an astronaut helment. In Birthday Party, she wears a ballerina skirt over her diaper and receives a pink birthday tiara from Butterfly.
Description
Edit
Like Baby, Sophie is a young and playful baby. She loves to go on adventures with her playmate Baby. Most of the time, she is smiling and sometimes giggling. She frowns sometimes and looks surprised when failing to do sometines but she also never cries. She smiles again with the help from the viewers. She loves to have fun and loves to do the Go Baby! dance at the end of each episode.
Characters
Edit
Baby is Sophie's playmate and best friend. They love to go on adventures together. When Sophie arrives at where Baby is, she and Baby give each other a hug. In Garden, she receives a kiss on the cheek from Baby and a kiss in the air from Baby in Moon. They both love to play together and have fun
The Narrator appears to love having Sophie around. Whenever Sophie arrives he is very happy for her to be there. Sophie also loves the Narrator. He loves taking Sophie on adventures with Baby. He also helps Sophie when she and Baby need it.
Sophie and Butterfly are good friends. Sophie is also happy when Butterfly comes by to deliver something or to show Sophie and Baby a surprise. In Birthday Party, she gives Sophie a birthday tiara when she arrives for the party.
List of Go Baby! Episodes
Edit
Sophie has appeared in most episodes. She only hasn't appeared in 3 episodes. Here are Sophie's appearances:
Sophie is one of the only main characters not to appear in all episodes. The other character is Butterfly.
It is not exactly known how Sophie arrives at where Baby is in the episodes she appears in. It's possible that she is dropped off by her parents.
It is also unknown why Sophie didn't appear in the first 3 episodes. It's possible that the creator didn't think about adding her until after the first 3 episodes.