Garden
is the fourth episode of
Go Baby!
 In this episode,
Baby
and
Sophie
are in the garden and they grow a flower.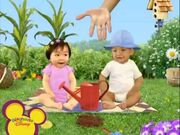 The viewers are invited to help them in the garden.
As the episode begins, we find Baby in his garden wearing a light blue garden hat. The Narrator greets the viewers and allows them to say hello to Baby. He then says that Baby's friend Sophie is coming but she's not here yet. Baby decides to get an apple for Sophie. He tries to pull one off the branch but fails to. The Narrator invites the viewers to help Baby pull the apple off teh branch. Baby tries again and he picks the apple. Sophie then appears from behind some bushes. Baby can't see her at first but with the viewers' help he sees her. Sophie crawls over next to Baby. Baby gives her a kiss on the cheek and the viewers are allowed to say hello to Sophie. Baby then offers Sophie the apple which she gladly takes a bite from. Butterfly then arrives and they follow Butterfly to a blanket in another part of the garden. There are 2 spades, a dirt covered hole, and a red watering can. The Narrator then says they are going to plant a flower. The viewers are invited to show Baby and Sophie how to dig a hole and they do so afterward. Butterfly then puts a seed in. The Narrator says they need to cover the hole with dirt. Baby and Sophie then cover the hole with dirt. The Narrator then puts down the watercan by the 2 babies and says that they now need to pour water on the dirt so the flower can grow. Baby and Sophie try to lift the watering can but fail. The Narrator asks the viewers for their help with showing them how to lift the watering can. They try again witht he Narrator counting to 3 and they pour water on the hole. The water soaks into the dirt. Baby and Sophie lay on their stomachs to watch. A flower grows out of the ground. They sit up and begin to do the Go Baby! dance. Butterfly, 3 birds, the flower, a few other flowers and plants also dance. The Narrator thanks the viewers for their help and the episode ends.
Information
Edit
Place: Baby's house
Theme: Gardening and planting flowers in the Garden
Characters Present: Baby, Sophie, Narrator, and Butterfly (cameo)
Airdate: March 16, 2005 (last year as the series premiere of the new show: Go Baby!)
This is the first appearance of Sophie.
This is the first episode to be 5 minutes and 13 seconds long.
This is the first episode to air in 2005.
Animation Goof: When butterfly appears with the seed,The Piles of Dirt are close but in the next shot,They are far.
This is the first episode of Season 2.