Baby's house
is a location in
Go Baby!
 It is where
Baby
and
Narrator
live. It is the location that has appeared the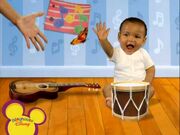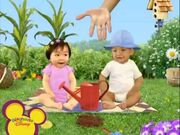 most.
Not many of the rooms are shown in Baby's house. There is a room where Baby and the Narrator play music together. It has a drum, guitar, and piano. The wallpaper has musical notes on it. There is also a music poster on the wall. Another room is the bathroom. The bathtub is big and white and has ocean pictues on the side. The wallpaper is tiled with an ocean border on it. There is also a few bath toys and a big toy boat that Baby and Sophie can ride in. The last room is where
Sophie
's birthday party took place. It has one mat that's blue, and another mat that's striped. There is a rocking horse in the background by the wall. The walls are decorated with balloons and a long streamer. There is also a garden outside the house. It has many plants and flowers and trees.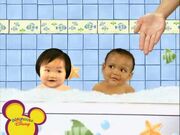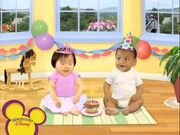 List of Go Baby! Episodes
Edit
Baby's house has appeared in 4 episodes. Here are the episodes:
This is the location that appears the most. 
This is the only residental location.
Although Baby and Narrator are the only people who live here, Sophie and Butterfly are regular guests here.